About us
Jørn Iversen Rødekro ApS. is a Danish company founded by Jørn Iversen in 1982. In 1986 we started to make our own production of specially-designed bicycles for people with disabilities. Over the years, it has become many models that meet the needs of people with various types of disabilities for personal transportation.

In our model program, there are also bicycles for those who feel safer in traffic when they can get around on three instead of two wheels. Because we can not help it, we now have Denmark's largest program within bicycles for the elderly and people with disabilities.
Even if you are older or have a disability, we think that things must have a smart look, be made of the best materials and designed to be used with pleasure. In order to reconcile these three ideas, in 1998 we entered into a collaboration with the design house 3PART A / S. The idea is that we will design and develop bicycles that are so smart and functional that non-disabled people must become envious.
All our bikes, be they three- or two-wheeler models, are made to easily adapt to each user's mode of transport.
With a focus on an exciting and creative development program, we constantly present new bicycles and accessories, so that today we have a wide range of our own products - with and without an auxiliary engine - all of which are developed and produced to high standards here in Denmark. Danish design; Danish production, where the quality of the detail counts. In addition to our own bicycles, we sell bicycles and electric scooters from other manufacturers. Common to everything we sell is that the quality and functionality can not be discussed.
The bikes from Jørn Iversen Rødekro ApS. exported to some countries in Europe. We also negotiate the well-known Karma electric scooters, which are among the top models in Denmark. So whether it is driving in town or on land, we have an electric scooter that fits your needs. You choose whether it should be with 3 or 4 wheels. Furthermore, our electric / scooters can be rented out on favorable terms.
Over the years, we have gathered an enormous amount of knowledge about the elderly, people with disabilities and their need for independent transport. We listen to our users, we get ideas and suggestions for changes and improvements. This is the basis for our bikes to get better all the time.
Jørn Iversen Rødekro ApS has a long-standing collaboration with the municipalities in Denmark and the end users. We know how important it is to get a bike that knows what you need. And it is just as important that you get thorough instruction and guidance on the use and that the bike is set correctly. It goes without saying when you choose to buy your bike or electric scooter from Jørn Iversen. Just as it goes without saying that we provide free delivery in Denmark.
At Jørn Iversen Rødekro ApS, we attach great importance to the customer getting the best experience from the first inquiry.
Many of our customers' first acquaintance with our company begins with hearing about us from other satisfied users, or they visit our website to find out about the opportunities we can offer. The next step is usually a phone call to one of our skilled employees who, with their vast knowledge and experience, helps the customer find the right product. We are also happy to arrange a time for a demonstration at your home. If you decide to try a model for a week's time (it's free), we will come home to you and set up the saddle, handlebar and other items and provide you with the necessary instruction manual.
Many people think it's easy to ride a tricycle. So it is, but it requires a proper instruction and explanation of why the bike is different to handle than a two-wheel bike.
If you are interested in the model we are demonstrating for you, you can borrow it for 8 days at no cost. It gives you plenty of time to try your bike or electric scooter in your everyday life. If you as a private customer against our expectation do not want the vehicle, it will cost you only 500 kr if we have to pick up. We come all over the country!
At Jørn Iversen Rødekro ApS, we have the idea that the product should help sell itself. And of course, you need to find out if you have the right choices now and that the current model lives up to your expectations.
Jørn Iversen Rødekro ApS is a member of the industry association Danish.Care.
In our development department, we constantly strive to optimize existing products, especially on the accessories side, to make changes to make the user of our products as self-sufficient and independent as possible.
There is a constant focus on developing new types of bicycles where we do not compromise on design and quality. This focus has resulted, among other things, in our Power models where the motor power of the bike and the user's leg muscles go up into a higher unit. The user gets the help when needed, especially during start-ups and high rises.
With our Viktor bike, we have won the IF design award in 2001, and in 2003 the Viki bike won the award for the best aid for the year. Of course, we at Jørn Iversen Rødekro ApS are proud of these prices, but we also feel that it is a commitment in the future, so we will do our utmost to live up to these prices.
In our assembly department many bicycles are collected every day. The vast majority of bicycles are made based on the user's wishes and demands for mobility, which means that no two bicycles are exactly the same. Handwork is an important quality factor that ensures a stable bike with extremely good driving characteristics and safety for the cyclist in traffic.
Most of our customers choose accessories based on our large range of accessories, and in this way the bike is individualized, so that the customer gets the most out of the ride. The bikes are usually stocked in a minimum of 2 different fashionable colors, and are basically delivered with 7 gears. The delivery time for our own production is therefore very short.
Whether the bikes are shipped to the customer or delivered by one of our consultants, it is always our assembly department that performs the last functional check and quality test before the bike leaves our company. All our bikes are of high quality and are CE marked according to the medical directive. And of course there is an easy to understand Danish user manual.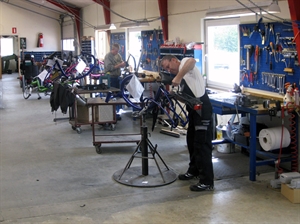 Some of the production takes place in our own premises, other things are manufactured by subcontractors in Denmark as we still believe that it can be made best in this country. Whether it is made with us or with subcontractors, there is always a great focus on controlling all the parts, so the finished result is always top quality.
All our bicycle frames are powder coated with 2 coats of paint in fashionable colors. The final check is always carried out by one of our own employees, so we make sure that the quality is top notch.
Jørn Iversen Rødekro ApS has its own service department that runs out to service our products. The vast majority of repairs are carried out on site, but some service tasks are taken home at your own service workshop.
We work closely with many bicycle workshops around Denmark that also service our products, so all repairs can be done quickly and cheaply.
Many of our customers choose to make a service contract with us - so you always know how much it costs in repair costs. The service contract eliminates unpleasant surprises during major repairs, for example if batteries on the electric scooter or electric bike need to be replaced.
No task is too small and no one too big.
We often manufacture bicycles according to dimensions. This may be because you are too big for the usual bicycles and therefore need to have the bike reinforced, or you are growth-inhibited and thus too small for normal models.
In addition, there are other types of disabilities that would otherwise exclude people from getting on a bicycle. It may also just be a matter of changing some accessories, always with the aim of making users of our bikes as self-reliant and independent as possible.
We are a member of Danish.Care Industry Association
Danish.Care is the Danish industry association for assistive technology, welfare technology and services within the assistive technology and care area. Industry association helps to ensure the best framework within the assistive technology and care area in Denmark as well as internationally. As a member of the industry association, we work closely with the castle and the municipalities, so that our product development gives the best result, of design, functionality, quality and user-friendliness.